The No5G Party is a registered Federal political party!
We are the first sole No5G political party in the world, right here in Australia.
We would like to thank all our members for their support in achieving this milestone.
While we already have over 1,000 members, our goal is to make the No5G Party the largest membership based political party in Australia. With your help this can be achieved by sharing this message and recruiting as many people as possible. This will give us a strong and unified voice that cannot be ignored.
It is clear that more people are becoming educated and concerned about the dangers of electromagnetic radiation locally and globally.
If we could recruit just 56,000 members, we would become the largest political party in Australia and with these numbers OUR VOICE WILL BE HEARD.
If this happens, we predict that the major political parties will see us as a threat and therefore they will adopt our policies to reduce the threat. Our goal is to ensure that the precautionary principle will prevail, in that only safe technology that has certainty as being safe to health (human, flora and fauna) and privacy is promoted in this country.
We are really about promoting safe technology
and restricting unsafe technology.
Please join our wonderful team, become a member of the No5G Party. Your membership will assist in making our homes, our community, and our planet a much safer place to live.
Why join the No5G Party?
The world is changing and moving at an incredible pace, technology is changing constantly and like most people, we want to make sure it's safe.
What people may not know is that the current roll out of the 5G telecommunications network, is a massive undertaking being coordinated around the world and pushed by the corporate elite. Engulfing the entire planet via 100 thousand satellites, millions of telecommunication towers, small cells and billions of 5G connected devices flooding the world with invisible electro smog pollution in the form of electromagnetic radiation.
The 5G rollout will increase man-made electromagnetic radiation at unprecedented levels with little to no concern for the safety and wellbeing of the humans who will be exposed to it.
That's why we have formed the No5G Party to promote legislative schemes, laws and policies to regulate 5G and associated technologies and to ensure independent and thorough studies are conducted. To ensure that the wireless 5G rollout is halted until there is an overall medical consensus proving that electromagnetic radiation is safe for human health, flora, fauna and property.
Join the No5G fight to reform and to ensure that any safety standards adopted by the Australian Government reflect true medical consensus and to ensure that such standards are not biased heavily to industry over our health.
If we don't do something now it will be too late. Let's act now to protect life and safeguard our children's future.
Become a member of the No5G Party!
Let's work on protecting life and freedom!
Health Warning – 26 GHz Dangers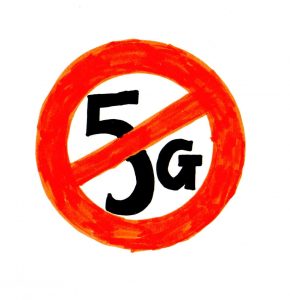 We would like to thank Orrin (age 10) for his
spectacular No5G artwork!